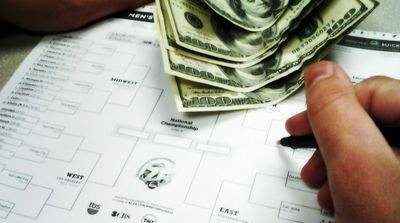 So, got your March Madness brackets filled out?

If you have no idea what that means you'll identify with the "Top Reasons You Don't Care About March Madness".




--College basketball emphasizes team play and fundamentals. And as an NBA fan, you can't tolerate that.

--You gouged out your eyes while sitting through "Burt Wonderstone" last weekend.

--Shockingly, a matchup between Virginia Commonwealth and Akron just doesn't get you excited.

--None of its athletes have the inspiring back-story of playing for a made-up dead girlfriend.

--You'd rather spend that time reading to your kids. Kidding! Totally watching!

--Your company will no longer allow you to enter any pools, after an unfortunate incident where you locked Sharon from Accounting in the break room and forced her to tell you her sleepers.

--You like sports where elbows to the face aren't fouls, they're POINTS.

--You're choosing to focus on fixing your marriage . . . kidding, you're totally watching.

--The only college thing you care about are the chicks in the "Girls Gone Wild" videos.

--You're tired of that one chick who picks teams based on jersey color winning your brackets.

--You've only got eight hours a day at the office. And you're already wasting all of them with checking Facebook and buying naughty things off eBay.

--It'll still be going on in April. So the name is a total lie.



--And finally, the last time you gambled on someone who played basketball, you voted for Obama.

Good luck with your brackets!!!




~Dillon in the Morning.